Are you ready for the 37th annual Astoria Warrenton Crab, Seafood & Wine Festival on April 26, 27 & 28? It's THIS WEEKEND!
URGENT NEED:
We need a minimum of 23 more shifts filled!
Friday, April 26
6:15 to 9:15 p.m. – 4 people needed – Door/Alcohol Monitor
Saturday, April 27
4:30 to 8:15 p.m. – 6 people needed – Door/Alcohol Monitor
4:30 to 8:15 p.m. – 4 people needed – Admissions
Sunday, April 28
1:15 to 4:15 p.m. – 3 people needed – Admissions
1:30 to 4:30 p.m. – 6 people needed – Door/Alcohol Monitor
**Other shifts are also available, but the greatest need is these shifts!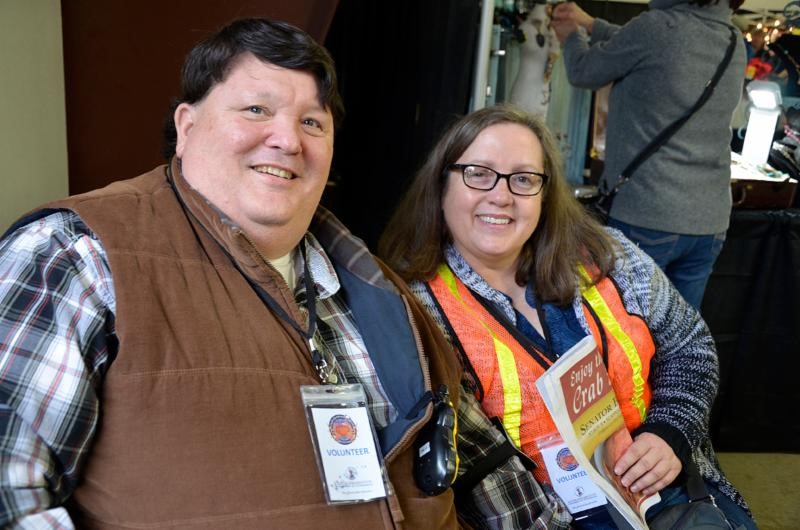 We need 83 volunteer shifts filled to run at full capacity. (Our total schedule has 280 spots to fill, and 197 of those are full!)
If you've already signed up to volunteer — thank you!! Please consider sharing this opportunity with others you know who might enjoy volunteering too, so that we can fill in the rest of our schedule.
Join us for volunteer orientation on Wednesday to learn more! (Info below.)
Perks of volunteering:
One shift
Free admission to the festival for the entire weekend (outside of your shift).
Free 2019 festival wine glass (while supplies last).
Free pizza during the Volunteer Orientation.
One entry into our "Spoil a Volunteer" prize drawing.

BONUS entry for showing up to Volunteer Orientation!
Two or more shifts:
All of the items listed above, plus…
Free festival retail voucher, to be used at our Retail Booth at the event.
One added "Spoil a Volunteer" entry for each extra shift worked!
Volunteer Orientation:
When: Wednesday, April 24 @ 4:00 p.m. or 5:30 p.m.
Where: Clatsop County Fairgrounds
Food: Pizza for EVERYONE at 5:00 p.m.
I appreciate your time and loyalty as a volunteer. I am excited as we prepare for this year's festival. Thank you in advance for your patience and flexibility, as we try to schedule more than 250 volunteer shifts.
You can find more information about volunteering at our event, and what to expect during your shift, on our festival website.
If you have any additional questions, please feel free to contact Volunteer Coordinator Barbi England via email or by calling (503) 325-6311.