The North Bend Liberty Theatre and Coos Bay's Restaurant O have teamed up for dinner and a concert, from the comfort of home.
For love for the Liberty, Restaurant O and the Liberty Theatre are offering
musical entertainment with Aaron Johnson Underground. The restaurant is offering a $10 discount off the 3-course pre-theatre menu when patrons mention Love for the Liberty from February 20 to 28, 2021.
The show will air on the Liberty Theatre's YouTube Channel
from the 20th of February. Watch the show and please consider making a donation to the Liberty Theatre.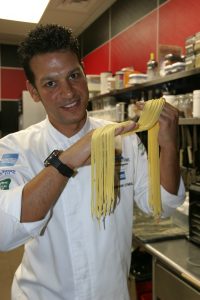 Restaurant O's co-owner and chef Eoghain O'Neill has worked in 3-star Michelin restaurants in Europe and operated his own Michelin-rated restaurant in Italy.
The special menu is available February 20 to 28, 2021:
♫ EXPOSITION ♫
French onion soup or Wild caught prawn tempura with chili & tamarind sauce
or Cajun chicken New York Caesar salad
♫ CHORUS ♫
Pappardelle pasta strips with gorgonzola cheese & zucchini or Spiced steamed salmon with spring onion, soy sauce, ginger, bok choy & jasmine rice or Spiced crispy pork belly, leek & pea mashed potatoes, five spice jus
♫ CODA ♫
Tiramisu or Duo of white & dark chocolate mousse with fresh berries
or Strawberry cheesecake
The first 100 orders on February 20 through 28 of the 3-Course Pre-Theatre Menu regularly priced at $35 will receive a $10 discount (plus 20% gratuity, post-discount) through the generosity of our composers.
Call 541-808-9300 or email info@restauranto.us for reservations.