This year the Annual Yachats Agate Festival will feature spectacular agates, plus minerals, gems, crystals and fossils on display at the Yachats Commons.
At Yachats Commons
Free
- / 800-929-0477
Pretty Rocks, Yummy Honey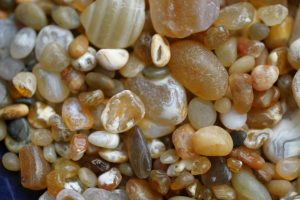 JANUARY 19 & 20
10 am to 4 pm
YACHATS
YOU CAN LOOK for agates on the beach, keeping a watchful eye for sneaker waves— or, you can go to the Yachats Agate Festival, inside the warm and cozy Yachats Commons. This festival of agates, rocks, crystals, fossils, and minerals takes place from 10 a.m. to 4 p.m. on January 19–20. Expect the tried and true mainstays of the festival, including the Rock Doc answering questions about rocks, the kid-friendly Agate Sandbox, vendors selling all sorts of rock and mineral items, and rock/gem demonstrations. For an upto-date schedule, check the festival website.