The Kendalls, who lead Lincoln City's First Baptist Church, will be gathering friends together for a special Christmas Eve concert.
At Lincoln City Cultural Center
lincolncity-culturalcenter.org
Free
Mon, December 24, 6:30pm – 8:30pm
This is Lincoln City's 2nd Community Christmas Eve Celebration at the Lincoln City Cultural Center Auditorium, 540 NE Highway 101. The Celebration begins 6:30 p.m., on Monday, Dec. 24. Admission is free. Wassail, hot chocolate bar, and baked goods will be offered. All donations will go to the Lincoln City Warming Shelter. This is a gift to the Lincoln City Community and its visitors from the Kendalls and the musicians of the First Baptist Church of Lincoln City.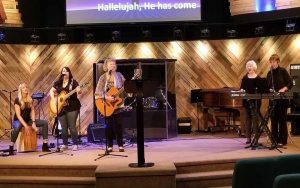 Featured Artists: Cross Generations
Director Valerie Kendall, vocals, lead guitar, bass; Judy Allan, vocals; Amanda Cherryholmes vocals, rhythm guitar, bass, cajon; Jane Ott, vocals, keyboard; Shannon Zantello, vocals, xylophone, cajon.
Guest Artists
The Beard Family Bells (Barbara & Paula on Bells, Paul on Piano); Bob Herman: Tenor soloist; plus KSO Alumni. To volunteer, contact the Kendalls at 541-992-4045.