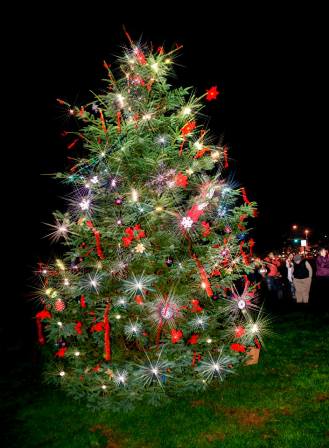 Volunteers, charities, shoppers, and crafters wanted!
At Lincoln City Cultural Center
All events free & open to the public
TREE LIGHTING PARTY AND SANTA SALE NOV. 23-25
The Lincoln City Cultural Center is happy to announce the return of its community holiday celebration: the Lincoln City Tree Lighting Party and Christmas Market, on Thanksgiving weekend Nov. 23, 24 and 25. This annual event will provide tons of free and weatherproof fun, including ornament workshops, charity booths, cookies and hot chocolate, carols and family photo opportunities. The community tree will be illuminated on Friday, Nov. 23, at around 5 pm, followed by the arrival of Santa Claus, who will be hearing wishes and giving out candy canes until 7 pm. The Cultural Center will continue to host festive activities throughout the weekend.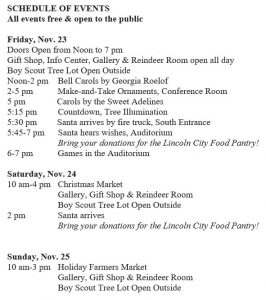 This event is made possible by the sponsorship of several local businesses, including Pacific Power, Kenny's IGA, North Lincoln Fire & Rescue, Lincoln City Towing and the Noble Creek Tree Farm. The members of the LCCC, along with these generous businesses, invite the community to get involved in this year's event.
"We've got fun opportunities for locals to help make this event an entertaining, safe, free community gathering, where we can all get in the spirit of the season," said Niki Price, executive director of the LCCC. "We are inviting community groups, charities, students and volunteers to help us make this sixth annual Tree Lighting Party a success."
Here are the ways that you can help:
Help decorate the Cultural Center – Deck the halls and the trees, both inside and out. Work parties are schedule for 3-6 pm Wednesday, Nov. 14, and from 10 am to 4 pm Saturday, Nov. 17. To volunteer, call Judy Hardy at 541-994-9994.
Be an elf -- Volunteers are needed to help with refreshments, lines, photo booths, cleanup and the like, on Friday, Nov. 23. Community or student groups who wish to adopt a game, in the auditorium, are welcome to take donations for their causes. To help, call Judy at the same number listed above.
Raise money for your cause – If you have a community group, charity or student fundraiser, you're invited to set up shop at the Cultural Center on Friday, Nov. 23. Reservations required (541-994-9994). We'll provide the tables and chairs.
Join the vendor fair -- This year's artisan Christmas Market (the for-profit version) will take place on Saturday, Nov. 24, from 10 am to 4 pm. Booth spaces are still available, with all proceeds going to the nonprofit LCCC. To sign up, call Kerry at 541-994-9994.
ABOUT THE EVENT
The Tree Lighting Party and Christmas Market festivities will begin on Friday, Nov. 23, the day after Thanksgiving at the Lincoln City Cultural Center, 540 NE Hwy. 101. Thanks to a hardworking corps of volunteer elves, the center halls will be deliciously decked with garlands, ornaments and lights, a tree on stage and another on the west lawn. The Reindeer Room – with large plush reindeer and "snow" for your family photos – will be open in the Dance Studio all day.
Starting at noon, Black Friday shoppers can listen to the Bell Tree carols while they browse the charity booths, the Chessman Gallery and the LCCC Members Gift Shop. Krista Eddy's famous make-and-take ornament workshop will be open to kids of all ages from 2 to 5 pm. Donations are happily accepted but participation is free, while supplies last.
At 5 pm, LCCC volunteers and staff will begin to serve the cookies, hot chocolate and coffee, provided by Kenny's IGA and the Morgan Family. If weather permits, the crowd will gather outside (if not, there will be room inside to enjoy). The Sweet Adelines will perform and lead a group carol sing, followed by the countdown and the flip of the switch, to illuminate the community Christmas tree and the rest of the Cultural Center's outdoor light display.  
At around 5:30 pm on Friday, a fire truck from North Lincoln Fire & Rescue will deliver Santa Claus to the south entrance of the Cultural Center. He'll make their way to the auditorium, where Santa will hear wishes, pose for photos, collect food donations and give away candy canes on the decorated stage. There will be games in the auditorium, too.
Activities will continue on Saturday, Nov. 24, from 10 am to 4 pm. The Christmas Market will feature vendors of handmade goodies and artisan gifts, including jewelry, woodworking, food and textiles. The Chessman Gallery and LCCC Members' Gift Shop will also be open, offering a selection of artwork and one-of-a-kind gifts made right here on the Oregon Coast. Santa Claus and his reindeer will arrive at 2 pm, hearing wishes and taking donations for the Lincoln City Food Pantry.
On Sunday, Nov. 25, a new set of vendors will take over the Christmas Market space. The Lincoln City Farmers & Crafters Market will be open for business, selling late season produce and a variety of seasonal goods. Hours on Sunday will be 10 am to 3 pm.
For details, to volunteer or to donate, call 541-994-9994